The interior designer behind Candance Mary Interiors was looking for a way to add style and convenience to her dining room. Motorized shades were the answer.
Candace, the interior designer behinds Candace Mary Interiors, is always busy. She works long, hard days and the last thing she wants to worry about when she gets home is adjusting her window coverings. While she loves all the natural light in her home, walking around the house opening or closing window treatments was always a pain.
"After a 10+ hour work day, I just want to cuddle on the couch with my pup and a glass of wine and relax," Candace said on her blog.
Who can blame her?
She had considered motorized window treatments before, but she was afraid they would be clunky and take away from her home's style. After some research, however, she realized the wide variety of fabrics compatible with Somfy shades meant that she could choose the perfect design for her large dining room windows.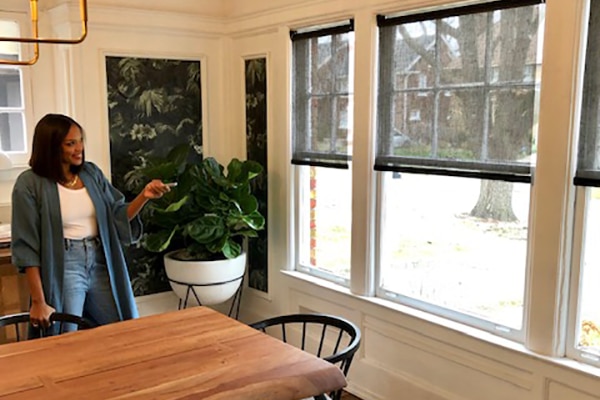 Working together with Somfy dealer Creative Windows, she was able to choose the perfect fabric and shade type, one that wouldn't take away from her dining room design but would protect her privacy at the touch of a button. Since her dining room faces the street the shades provide both light filtering and privacy from prying eyes.
Best of all, with app control Candace was able to not only create scenes and schedules for her new motorized shades, but she was also able to connect them to Amazon Alexa. Now she can enjoy the power of voice control for her dining room shades. With just a simple voice command, Candance can tell her shades to raise in the afternoon or lower in the evening to protect her family's privacy during dinnertime.
"I cannot tell you how much joy that brings me every night when I can introduce privacy and intimacy into my home from the couch! It's really the little things, isn't it?" Candace said.