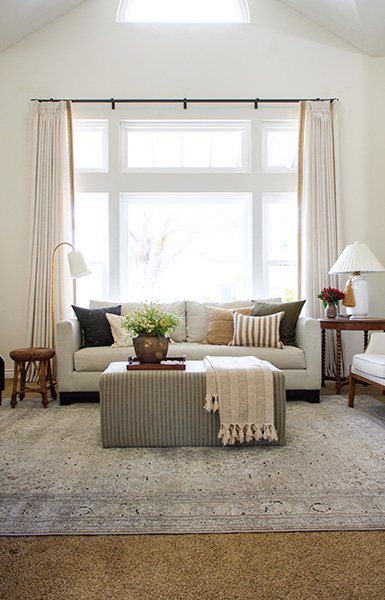 Life with large, gorgeous windows was difficult for Wildflower Home blogger Marynn. That is, until she discovered motorized curtains and no longer had to stand on the couch to close the drapes!
Marynn loved the large windows in her formal living room, but they were always a bit of a problem. As an interior design blogger who writes about home projects on her blog Wildflower Home, Marynn was excited by the prospect of all the natural light these windows provided. However, she didn't foresee some of the issues she would face and she didn't know she would struggle for two years to find the right solution before discovering motorized draperies.
Marynn and her family moved into their forever home a few years ago, and since then she's had plenty of home projects to tackle and post about on her blog. One of those projects was updating the formal living room, where a bank of gorgeous windows had been causing her some headaches.
First of all, how could she cover both the upper and lower windows? Marynn considered Roman shades for the lower windows, but then what about privacy for the upper windows? She considered adding a curtain rod between the upper and lower windows as well but ran into the same privacy question.
So, she hung draperies. Very tall draperies.  Opening and closing them required climbing onto the couch. And there's got to be better cardio than couch climbing to close the drapes. The only ones happy about this turn of events were Marynn's dogs, who loved to sit on the couch and survey the outside world. Not exactly the ideal situation with light-colored furniture.
That's when Marynn discovered motorized curtains, powered by Somfy.  A local workroom created new pleated drapes, and Marynn worked with Somfy dealer EMotion Shade to get these new draperies added to a motorized drapery track and installed over her windows. These gorgeous, motorized curtains are now both beautiful and functional!
"As soon as I pressed that button for the first time, I knew daily life would never be the same," Marynn wrote on her blog.
She wall-mounted her remote so she never has to search for it under the couch cushions. But even if her kids or dogs ever took off with the remote, Marynn can now open and close her smart curtains from an app on her phone or even with the power of voice control. These draperies are truly packed with smarts.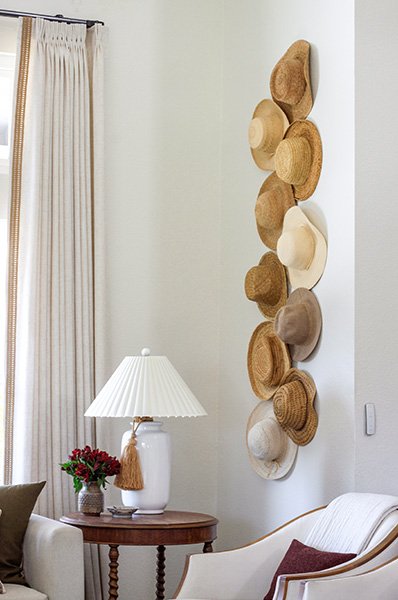 Best of all, now she and her family don't have to climb the furniture and desperately tug the draperies closed to maintain some privacy. She can enjoy natural light and privacy, all at the touch of a button. No climbing, tugging or telling the dogs to get off the couch. She's now in total control of her windows.
No matter how much you love natural light, large windows can create problems in your home. Motorized draperies are here to solve those problems with a touch of a luxury and a whole lot of smarts. Now Marynn can just enjoy the natural light that streams in through her windows, knowing she's in full control.
"Motorized curtains are a practical solution for tall, inaccessible, or multiple windows.  They transform daily living from frustrating and burdensome to easy and functional with the push of a button," Marynn said.