Are you ready for back to school season? Here's how your smart home can help improve your school year routine.   
It happens every year and yet, are you ever truly prepared for it? We're talking, of course, about back to school season. As the end of summer draws near, it becomes time to focus on school supplies and class schedules. The lazy days of summer are almost over and it's time you and your family prepared.
Recently, technology is gaining traction in the back to school season. According to a recent survey from Deloitte, technology spend is up 37% as parents and students embrace tech trends. The smart home is also part of that technology trend. According to a recent report by Technavio, smart home growth is likely to accelerate at a growth rate of approximately 18 percent over the next five years.
Thankfully, smart home solutions can make the back to school process simpler. Here are some ways that smart home technology can help you transition smoothly to the back to school season:
#1: Create a Schedule for Your Family and Your Smart Home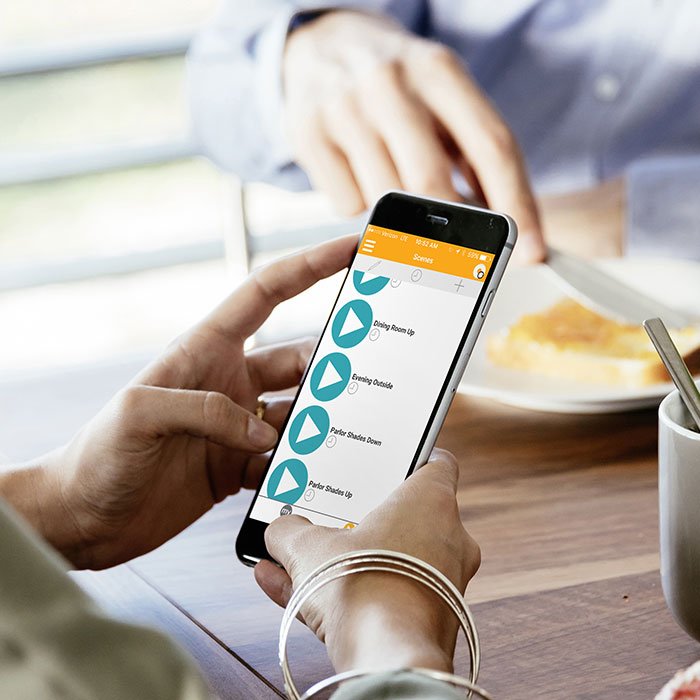 It's time to get back on schedule, and we don't just mean your kids. Putting your smart home on an automated schedule will help you check a few things off your endless to-do list. For instance, you can create a schedule so that your bedroom shades open in the morning at sunrise, reminding you to get out of bed. With app control for your motorized shades, you can set a schedule for morning light that aligns perfectly with your family's hectic morning routine.
You can also set schedules for other smart home products, creating a "Good Morning" scene that opens your shades, turns on your Philips Hue lights, starts your morning playlist or even turns on the news. You can set schedules for plenty of products around your house, from your curtains and blinds to your coffee makers and lighting. The more your home remembers and automates your routine, the easier it will be to get back in the swing of things.
#2: Get Tired Kids Out of Bed 
"Five more minutes!" is probably the one phrase you dread most while approaching the back to school season. Let's be real – not everyone is an early bird. Plus, we all know that five more minutes for your kids is never just five minutes. If getting your kids out of bed has become your eternal struggle, smart home solutions might be the answer.
Create a scene for all the motorized shades in your child's bedroom and control wake up time from your phone, a remote, or even with voice commands. Now, after five minutes you can easily open all the shades in their bedroom to let the blazing morning sunlight in and let your child know it's really time to get out of bed.
#3: Relax and Recharge Your Shades 
As the back to school season begins, it's the perfect time to make sure your home is ready for the hectic days ahead. Do you have all the school supplies you need? Are you stocked up on snacks? Do the kids' shoes still fit?
Have you recharged your automated shades?
With Somfy's rechargeable battery pack, you can dump the batteries and turn any Radio Technology Somfy (RTS) shades into rechargeable battery shades. Before you start arguing with the kids about wake-up times or packing lunches, make sure your shades' batteries are charged and ready for another school year. Just plug in the shades or the rechargeable battery pack, wait for the light to turn green, and go about your day.
#4: Master Your Smart Home with Voice Commands 
Your kids might not listen to you, but with voice control your smart home actually will. Using voice control through Amazon Alexa or Google Assistant, you can boss your smart home around and it won't even mind. Have Alexa make a list of chores or tell Google Assistant your shopping list. No more putting pen to paper (and then losing that paper!) to follow up on your to-dos. You can even tell your shades and curtains to open and close and they'll listen.
Creating scenes and schedules for your smart home products means you can put your home into motion with just a phrase. Trigger your "Good Morning" scene and watch as your shades open, your lights switch on, and the morning news plays. Bedtimes are easier when you can trigger a "Good Night" scene that turns off the lights, closes the shades, and turns off the TV so kids go to sleep on time.
#5: Set the Right Temperature  
With you and your family out of the house for most of the day, your HVAC no longer needs to work overtime to keep you cool. With smart thermostats that learn your schedule, you can modulate your temperature, so you don't waste energy heating or cooling an empty house. You can also create schedules for your motorized shades, blinds, and draperies so they close during the hottest parts of the day or open in the winter to let in the heat. This not only keeps your energy bills under control; it can also help save your furniture and artwork from UV damage.
Working from home that day? Easily adjust the schedule or operate your thermostat and window coverings with in-wall or app controls. Smart shading works with prominent third-party automations systems like SmartThings, Brilliant, IFTTT, Crestron, Control4 and more.
#6: Create a Good Spot for Homework 
Your tiny geniuses need a good, well-lit space to do their homework, whether it's figuring out Algebra or putting together a diorama. Smart lighting and smart shades work perfect together, marrying natural and artificial light so your kids can focus on their work. Create a dedicated, quiet spot in your home with ample natural light where your kids can settle down and do their homework.
But don't forget that in the winter natural light can be harder to come by, so make sure you have some artificial lighting nearby, perhaps a floor or desk lamp that can help them see their reading assignment when winter comes. Best of all, with voice control your kids can brighten the lights or close the shades to avoid sun glare, all with just a simple phrase.
The back to school period can be hectic, but your smart home can help you prepare for the school year ahead. Just remember to create a schedule that works for your family, and your smart home will remember to do the rest.
Ready to upgrade your home with smart shading? Connect with a Dealer to get started!