Blogger and YouTuber Melissa from Welcome to the Woods discovered the power of motorized screens to make her porch more fun and functional for her family.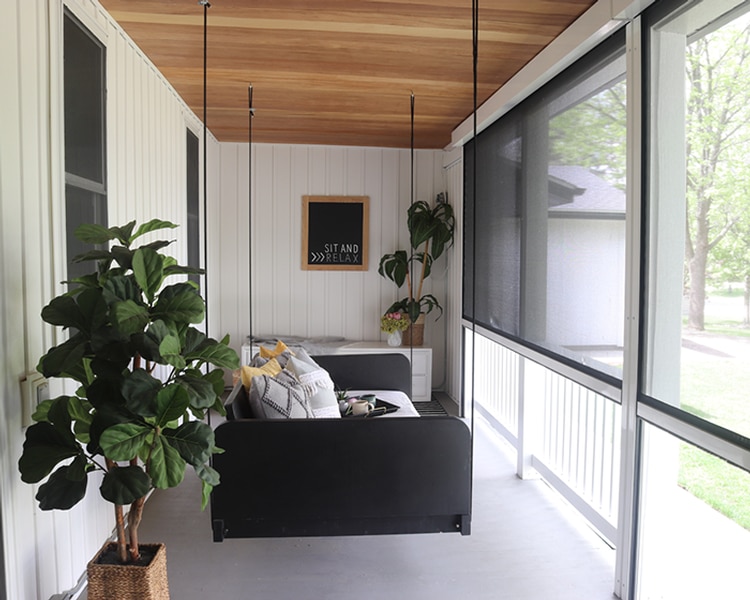 Melissa from the Welcome to the Woods blog and YouTube channel knows a thing or two about creating beautiful, comfortable home spaces. As an avid DIY enthusiast, Melissa uses her online channels to show her followers how to use DIY methods to upgrade their homes. So, when she realized her porch needed an upgrade, motorized screens seemed like the natural fit.
Melissa wanted her family to be able to utilize their outdoor porch space more often, no matter the season. However, living by a lake meant the family was often engaged in a battle of the bugs while outside, particularly with troublesome mosquitos.  Motorized screens would allow the family to block out the bugs while lounging on their porch, making the space more comfortable and enjoyable.
"It's great to be able to sit on the bed swing I built without worrying about spiders or mosquitoes," Melissa wrote in a blog post about her new screens. "My daughter has already even slept out here once!"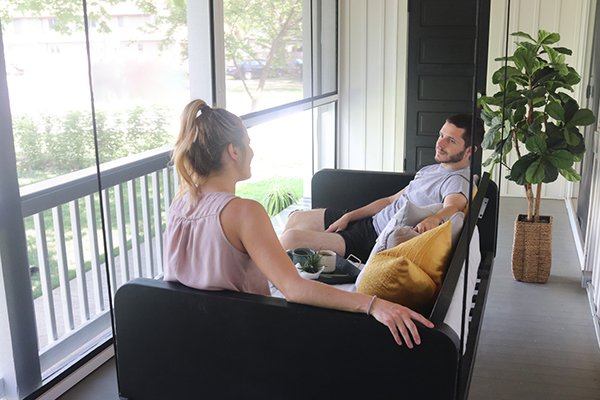 To get ready for the screens to be installed, Melissa did some DIY magic on her porch area to upgrade the beams and flooring. Then the porch was ready for the one-day install by a father and son team from Screen Mobile Minnesota, which was fast and easy. They helped Melissa program her screens, allowing her to control the two screens on different channels on her remote or in her app, so she can bring all the screens down at once or stop them at different places.
The screens themselves were manufactured by Stoett and are durable enough to stand up to the seasons.
"The tightly knit Stoett screen keeps out the tiniest of bugs while still being easily see-through," Melissa wrote. "It even blocks some of the sun's harshness, so our porch stays cooler with the screens down."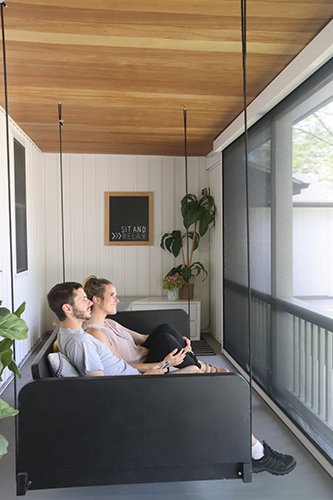 Blocking out some of the sun's rays is key, as the family's porch is west-facing and can really heat up during the hot summer months. Since these motorized screens can knock out close to 40% of the sun's intensity, the family can enjoy their porch area even when the weather gets toasty. They can now sit outside and enjoy the sunset without worrying about bugs or excessive heat.
"To me, the major advantage of getting a motorized screen versus a permanently installed version is that they're hopefully going to last a lot longer since we can roll them up during any terrible storms and we can have them up during winter when we're not even using the porch," Melissa said in her YouTube video about her new screens.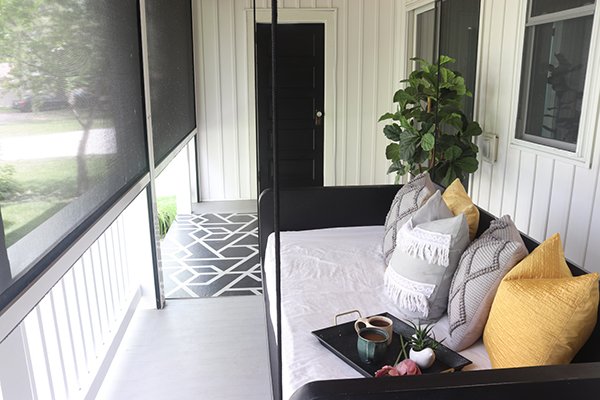 The screens are also easy to clean and maintain, which is a huge plus for this busy mom and DIY enthusiast who always has a million projects in the works. When not in use, the screens roll up into the housing at the top, which is discrete and sleek. And the family doesn't have to worry about misplaced remotes since they can also control their new motorized screens right from an easy-to-use app on their phones or even with voice control.
These motorized screens transformed Melissa's porch area from one that wasn't always utilized to a spot the family often gathers and where her children like to play.
"I really love how the screens look on the front of our house," Melissa said. "They just make the porch so much more beautiful, versatile and enjoyable for our family."
Watch her full DIY tutorial and screen installation in the video below: