Erin Lawrence, of Tech & Gadgets News & Reviews, chose to install three different types of window coverings and Somfy motors in three rooms of her home. She took advantage of the opportunity to compare the Sonesse® motor options in the blinds and shades that fit her needs in each room. Erin decided to use the Somfy sun sensor on one window, and she integrated Somfy TaHoma® to work with her smart home automation system. With her installation complete, Erin has the shades in each room set to a timed schedule, but she's having fun with the versatility of changing scenes and making adjustments with voice controls.
Erin worked with Sonata Design, a Somfy expert dealer in Calgary, to choose styles and fabrics that would suit the needs of her home. She chose the Sonesse 28 motor with a designer roller blackout shade for her office. Erin works full time from her home office, so she needed reliable light control to prevent glaring afternoon sunshine. She wrote, "the Sonesse 28 is the loudest, but calling it loudest is like calling a piece of paper falling to the floor loud…the only real noise is a soft hum, which I think anybody could sleep right through." Her office shade is set to a daily routine that fits her workday and then closes for privacy around sunset.
In her bedroom, Erin wanted to use the silent motor, the Sonesse 40, and a heavy light-blocking Roman shade. The shade was customized to fit her non-traditional window. Besides blocking light when she's sleeping, it also prevents her bed right below the window from getting too hot or cold due to outside temperatures. She has a custom scene programmed in TaHoma to secure privacy when needed but let the light shine in for most of the day. Erin even set a summer scene for this room to provide shade during hot afternoons.
Erin's living room installation of motorized shades was the most involved. Using Sonesse Ultra 30 motors and custom sheer blackout roller shades, Sonata designed shades that span her long windows for a great aesthetic and clean lines. Erin wrote about these shades, "This set up is what's called a designer sheer blackout roller shade. In a nutshell it looks like slat blinds that are partially sheer when they're open. Or you can tilt them closed for full privacy. I love this versatility."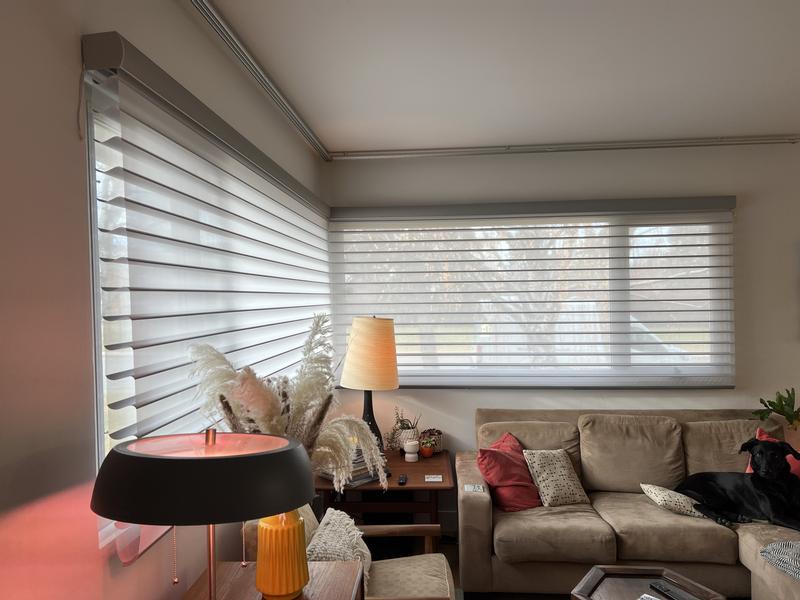 Erin's living room windows face west, so this is where she decided to use the Somfy RTS Sun Sensor. When the sun tells the sensor that its rays are strongest, the blinds tilt closed on their own to manage incoming light and heat. Once the direct sunlight abates, the blinds reopen. Erin loves this effortless smart feature that conserves energy. It also works well as a passive security feature. When away from home, Erin appreciates that her adjusting shades give the impression that the house is occupied.
As a lover of all things tech, Erin was especially intrigued by the features of her motors' rechargeable batteries. Depending on usage, Somfy motor batteries can maintain their charge for up to a year. The easy to hide charging cord makes it a snap to connect for recharging. Somfy also offers solar panels to keep motors fully charged at all times. This is especially handy on high, difficult to reach windows. While she mostly relies on her smart home system to manage her motorized blinds and shades with scenes and schedules, she does keep her Somfy remote handy for quick adjustments. Erin was also impressed with the easy setup for the remote, TaHoma app, and smart home integration. Of course, setup is a service offered by all Somfy dealers, but she just had to try it on her own! Don't worry, her trusted installer stayed close by to make sure she completed setup exactly as she wanted.
Motorized blinds and shades are a great feature to add to your smart home automation conversion. Whether you start small with a few rooms, or do a complete upgrade to modern convenience, a Somfy expert dealer can help you design the motorized shades and level of smart home management that's perfect for your needs.